Yes, that's right. You've reached the lightly salted version of our Week 3 matchups. There will be no ill will or backhanded comments to any teams here. Well, except to The Pimps. They're like that bratty little red head kid with the pitchy voice. You just want to….
---
As we enter Week 3, many are feeling the pain. Injuries look to be testing our depth and the waiver wire is definitely key to holding it all together. The league standings have also seen some movement, with some teams still undefeated and others looking for their first win. There will certainly be a winless team after this coming week as we have two 0-2's facing off. The question is, will there be anyone still undefeated?
Game of the week
Another historical matchup for Game Of The Week! These two have battled since 2001 with the Dawgs leading the regular season matchup 16-14. They've also faced off in the Championship Game twice, with each one walking away with a Trophy.
However, The Pimps come into this matchup with a chip on their shoulder. They are 17-1 in All-Play-Record this year but just happened to play that 1 team last week that scored more than them. That loss knocked them down to 4th place.
Meanwhile, the Dawgs come gliding in after a cakewalk versus the Scallywags.
This matchup won't be so easy though. The Dawgs may be 2-0, but their players are having issues. Saquon Barkley jacked his ankle, Cam Akers got shipped out of town, Christian Watson still hasn't gotten dressed, and Adam Thielen is pushing his walker around the field. Can they find a way to beat these Pimps who boast the #1QB (Cousins), the #1 RB (McCaffrey), and a top 5 WR (Devonte Smith)?
PREDICTION:
---
We're showcasing this matchup next not out of pity, but of hope. They are both in the dingey cellar at 0-2. One team WILL WIN here. But that means the other will continue falling down that pit. The good thing about a pit though, is that is has to end somewhere, right?? It may be a deep fall and it may be filled with snake poo….and the snakes themselves, but the fall will end somewhere.
That reminds me, we did have one team go winless. Remember those 2020 Misfits? Their season ended 0-12. Poor guy. Don't let that happen to you!
ESPN predicts SOA, but not to sound like a broken record, they are leaning heavily on the Chiefs to put up points. Will this strategy work this time? Or will the Jesters more diversified offense win out? The key for the Jesters is their Jaguar stack of Trevor Lawrence and Calvin Ridley. If they find a way to really hook up, it's trouble for the Sons Of Anarchy.
PREDICTION: Jesters. Unless their kicker goes in the negatives again!
---
This series was once owned by the GB Gamblers. However, the Darque Warriors have rattled off 6 straight wins VS the Gamblers and now lead the series 12-11. This trend is in jeopardy with the Warriors early struggles here. They're sitting at 0-2 and are faced off against the team who scored the highest points last week.
Perhaps it's a bit of bad luck that these guys have 3 losses between the two of them. Their lineups are loaded. So, even though you have to look far down in the standings for them (I mean really far down), they've got serious shots to make that move up.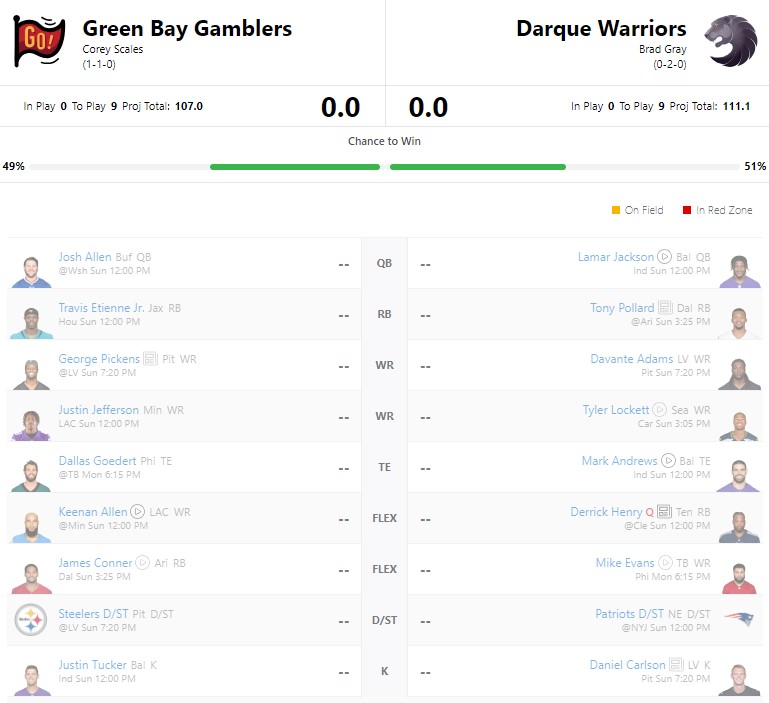 PREDICTION: This might be the tightest game of the week. Darque takes this one with Tony Pollard having his best game of the year.
---
The 2-0 Midway Monsters face the 1-1 Swashbuckling Scallywags. The Monsters are off to a hot start and are looking to defend that Championship, while the Scallywags completely blew it last week. They scored a total of 69 points, when their optimal lineup would have scored 126 points. Those decisions alone are what cost the Scallywags the win. Perhaps a new method of start/sit shall be used.
Hell, even Josh Jacobs chipped in on this tank job with another first:
Now if we are really lucky, maybe we will see a similar outcome to their Week 2 matchup back in 2020. The leauge's only tie in our 24 year history!
The Scallywags are projected double digit winners of this matchup. But, can the mighty Midway really go down that easily?? If the Scallywags' starters score more than their own bench, Midway just might get that first loss right here.
PREDICTION: Though I really want that tie to happen, Midway Monsters keep the streak going and hit 3-0.
---
Joe Buck Yourself is putting on a clinic. 2-0 and atop the standings. Does it get any better than that? Though he did lose David Montgomery for a bit of time, he hit the "Jerome Ford Waiver Wire Sweepstakes". I'm not sure how many claims were put in for that guy, but judging by the bodies dropping around the league, I'm guessing there were 9 other bids!
As for the Irish, after a tough Week 1 loss, they bounced back with a down to the wire victory in Week 2. With a 1-1 record, a win here would put them above 0.500 and in a good spot. A well timed pickup of Kyren Williams will help cover the smell of bengay, as the rest of their lineup is loaded with "Questionables".
Irish can win this game, but Jalen Hurts' touchdown passes can't all go to AJ Brown (JoeBuck's WR). Oh the sneaky canceller. This gives JoeBuckYourself the edge here. Well, that and his QB, Justin Herbert, is about to light up the Vikings.
PREDICTION: Joe Buck Yourself holding off an Irish Pride comeback on Monday Night.