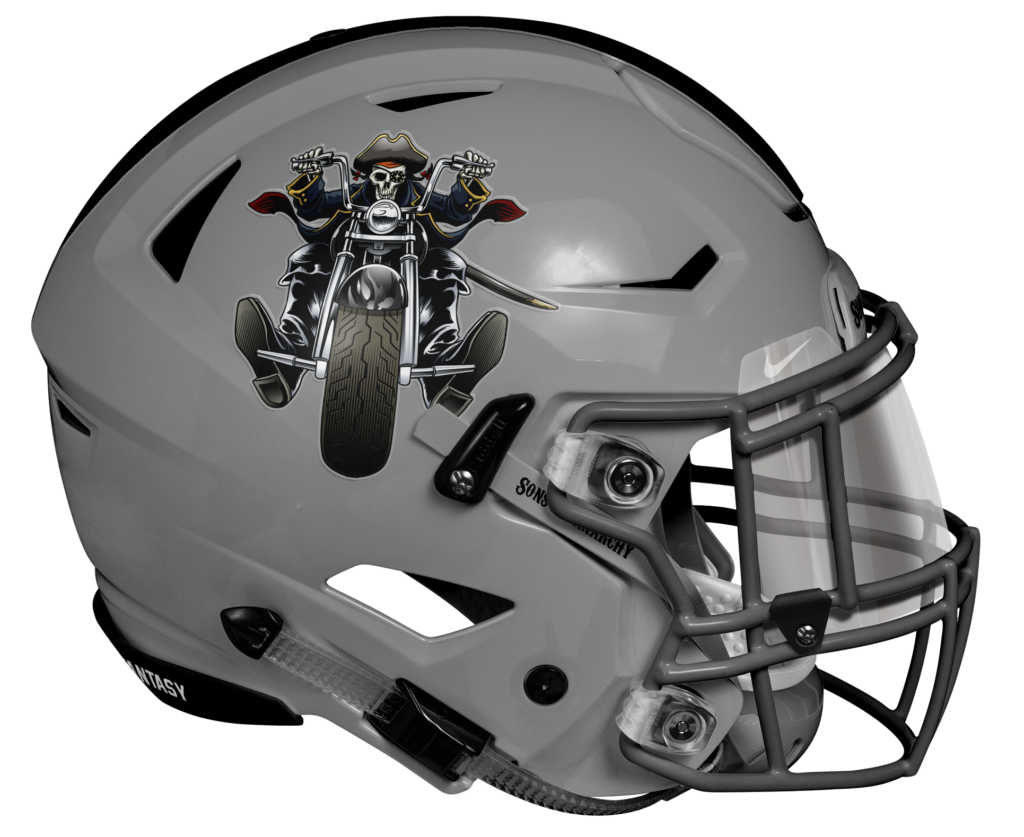 Their Story
Sons of Anarchy entered the league in 2001 and participated in the league's first ever Live Draft. Featuring a Raider-heavy lineup in season 1, they had their issues and limped to a 5-9 regular season record.
SOA used this as a learning process and quickly turned things around in Season 2. They would post a solid 8-6 record, which earned them a playoff spot. They edged the Top Dawgs in the 1st round, but would eventually fall to the Bashers (Now the Swashbucklers) in the Championship Game.
It wouldn't take too long for them to reach championship status though. In 2005, they took it all by knocking out the Irish Pride in the Big Game.
Anarchy have gone on to win 2 more Championships though the years (2012,2014), giving them a total of 3 League Championships.
With an "Aww Fuck it" draft attitude, the SOA prove to be a dangerous group. Look for them to challenge years to come.
Images
Season By Season Record
| SEASON | W | L | T | WIN % | POINTS | PLAYOFF W | PLAYOFF L |
| --- | --- | --- | --- | --- | --- | --- | --- |
| 2001 | 5 | 9 | 0 | 0.357 | 785.55 | 0 | 0 |
| 2002 | 8 | 6 | 0 | 0.571 | 1000.42 | 1 | 1 |
| 2003 | 4 | 9 | 0 | 0.308 | 798.86 | 0 | 0 |
| 2004 | 7 | 6 | 0 | 0.538 | 978.55 | 0 | 0 |
| 2005 | 8 | 4 | 0 | 0.667 | 985.87 | 2 | 0 |
| 2006 | 9 | 3 | 0 | 0.75 | 813.53 | 0 | 1 |
| 2007 | 4 | 8 | 0 | 0.333 | 757.62 | 0 | 0 |
| 2008 | 2 | 10 | 0 | 0.167 | 653.1 | 0 | 0 |
| 2009 | 6 | 6 | 0 | 0.5 | 878.63 | 0 | 0 |
| 2010 | 6 | 6 | 0 | 0.5 | 857.06 | 0 | 0 |
| 2011 | 10 | 2 | 0 | 0.833 | 939.71 | 1 | 1 |
| 2012 | 7 | 5 | 0 | 0.583 | 845.05 | 2 | 0 |
| 2013 | 4 | 8 | 0 | 0.333 | 821.04 | 0 | 0 |
| 2014 | 9 | 3 | 0 | 0.75 | 963.63 | 2 | 0 |
| 2015 | 7 | 5 | 0 | 0.583 | 848.98 | 1 | 1 |
| 2016 | 5 | 7 | 0 | 0.417 | 1236.96 | 0 | 0 |
| 2017 | 6 | 6 | 0 | 0.5 | 1142.72 | 0 | 0 |
| 2018 | 8 | 4 | 0 | 0.667 | 1229.48 | 0 | 1 |
| 2019 | 6 | 6 | 0 | 0.5 | 1246.62 | 1 | 1 |
| 2020 | 7 | 5 | 0 | 0.583 | 1332.94 | 0 | 0 |
| 2021 | 5 | 8 | 0 | 0.385 | 1269.02 | 0 | 0 |
| 2022 | 7 | 6 | 0 | 0.538 | 1273.5 | 0 | 0 |
---