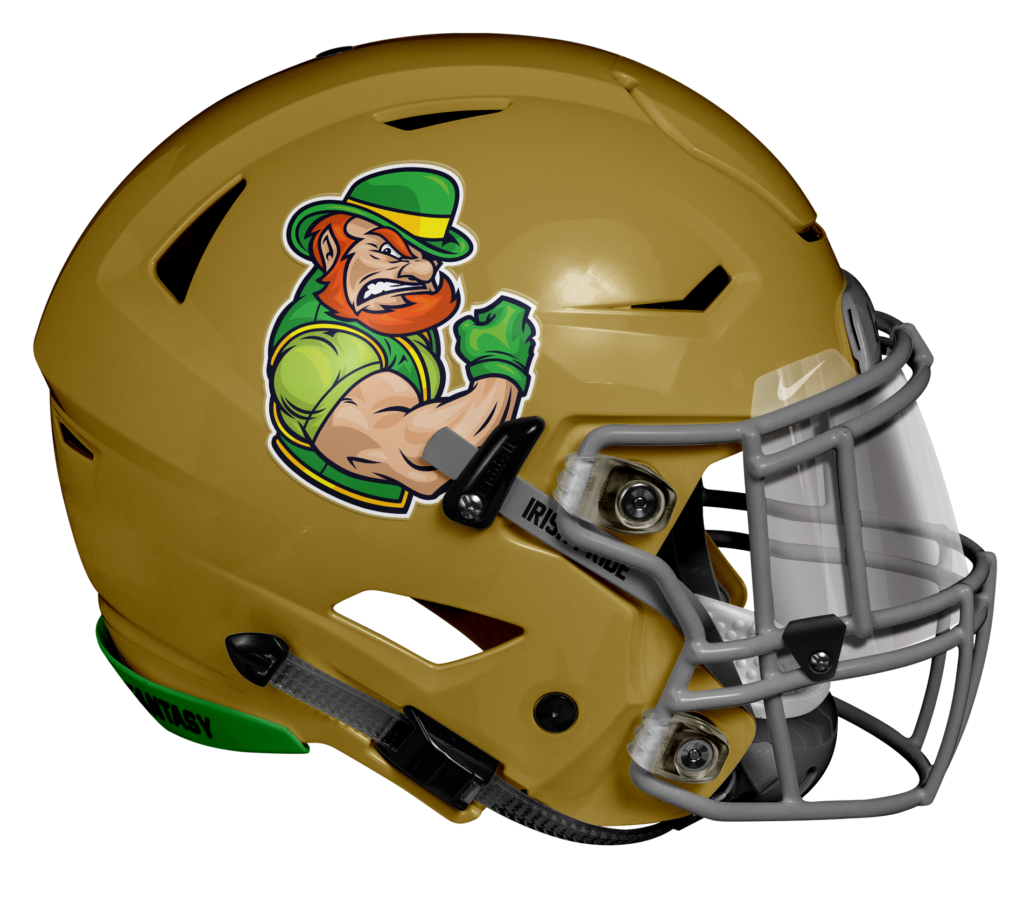 Their Story
The Irish Pride were welcomed into the league back in 2001. This would be Crunchtime's 2nd season in existence, but our first live draft. The first member of the Irish would be none other than Doug Flutie. Perhaps a reach. However, they shored up their QB situation later in the draft by taking some rookie by the name of Drew Brees in the 10th round. That would work out alright.
The Irish won their first Regular Season Title in 2005, but ended up losing to the Sons Of Anarchy in the Championship Game that year (77-82). A crushing defeat, after posting such a solid regular season record (9-3).
After bouncing around with degrees of failure and success over the next few years, it finally started clicking. In 2015, the Irish Pride would find themselves in the Championship Game against the Sons Of Anarchy once again. This time, the Irish flipped the script and easily took down the SOA with a score of 84-59 and claimed the coveted Trophy.
The following year, the Irish Pride didn't let up. They reached the Big Game again, but this time against the #1 seeded Midway Monsters. The Monsters had just posted their third 9-3 record in the past four years. However, the Pride just kept cruising. ..and they crushed the Monsters (114-89).
The Irish now have 2 League Championships with hopes that a 3rd is not too far away.
Images
Season By Season Record
| SEASON | W | L | T | WIN % | POINTS | PLAYOFF W | PLAYOFF L |
| --- | --- | --- | --- | --- | --- | --- | --- |
| 2001 | 5 | 9 | 0 | 0.357 | 789.36 | 0 | 0 |
| 2002 | 6 | 8 | 0 | 0.429 | 797.57 | 0 | 0 |
| 2003 | 4 | 9 | 0 | 0.308 | 888.96 | 0 | 0 |
| 2004 | 8 | 5 | 0 | 0.615 | 897.95 | 0 | 1 |
| 2005 | 9 | 3 | 0 | 0.75 | 940.51 | 1 | 1 |
| 2006 | 6 | 6 | 0 | 0.5 | 869.81 | 0 | 0 |
| 2007 | 5 | 7 | 0 | 0.417 | 827.64 | 0 | 0 |
| 2008 | 9 | 3 | 0 | 0.75 | 848.51 | 0 | 1 |
| 2009 | 3 | 9 | 0 | 0.25 | 717.23 | 0 | 0 |
| 2010 | 4 | 8 | 0 | 0.333 | 855.82 | 0 | 0 |
| 2011 | 5 | 7 | 0 | 0.417 | 819.36 | 0 | 0 |
| 2012 | 5 | 7 | 0 | 0.417 | 843.77 | 0 | 0 |
| 2013 | 8 | 4 | 0 | 0.667 | 842.97 | 0 | 1 |
| 2014 | 5 | 7 | 0 | 0.417 | 893.43 | 0 | 0 |
| 2015 | 6 | 6 | 0 | 0.5 | 921.82 | 2 | 0 |
| 2016 | 7 | 5 | 0 | 0.583 | 1312.2 | 2 | 0 |
| 2017 | 3 | 9 | 0 | 0.25 | 1011.06 | 0 | 0 |
| 2018 | 6 | 6 | 0 | 0.5 | 1299.32 | 0 | 0 |
| 2019 | 5 | 7 | 0 | 0.417 | 1115.66 | 0 | 0 |
| 2020 | 9 | 3 | 0 | 0.75 | 1169.5 | 0 | 1 |
| 2021 | 7 | 6 | 0 | 0.538 | 1410.84 | 0 | 1 |
| 2022 | 6 | 7 | 0 | 0.462 | 1223.58 | 0 | 0 |
---